Hi there, nostalgic person of mystery! I do in fact live in the present and still have a band called Octopolis, and you can hear our NSFW music here. And, follow me on Instagram, of course.
2016: I highly recommend this great book on Gainesville music history by Marty Jourard. He focuses on the 60s and 70s (rightly so) but includes a chapter on recent history, including a section on the AMH.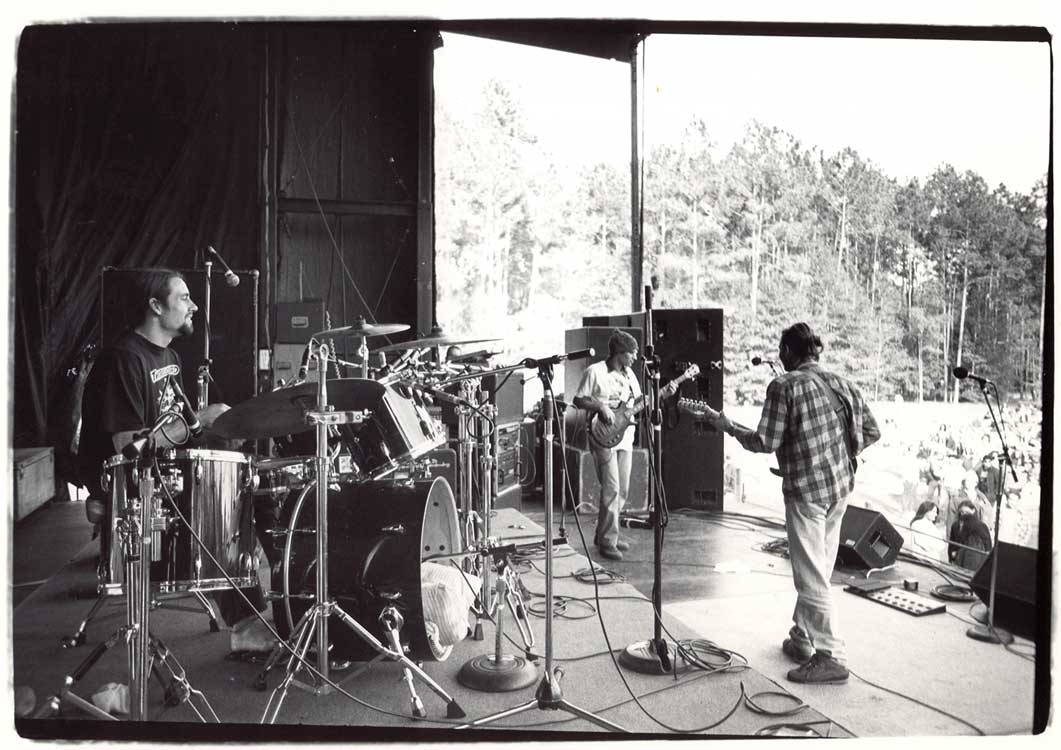 Impromptu jam on stage, L to R: Marshall Lowe, me, Greg D'Angio (01-16-94)
HISTORY pt.I: INSPIRATION

In the spring of 1993, I was invited to play drums at the Florida Folk Festival for a couple of blues/gospel acts: Blind Willie James and Diamond Tooth Mary. There were no rehearsals. We just tried to follow Willie and Mary as best as we could, a nontrivial task since Blind Willie was, well, blind and Mary, into her 90s, was confined to a wheelchair. During Mary's finale, When The Saints Come Marching In, she announced to the audience that she wanted "everyone in the audience to come down here and shake my hand." We must have played that tune for over fifteen minutes as the crowd queued up.

That evening I wandered around the campground, where every other fire circle had a resident group playing folk tunes, bluegrass, and other acoustic music. This was a step above the standard-issue hippie drum circles I'd encountered in Gainesville. These were real musicians who had traveled from all corners of the state just to play together and hang out. It was a glimpse into a community that I never knew existed. What I had thought was just another music festival by the Suwannee River turned out to be more like an annual convention and networking event for independent folk musicians of Florida.

I thought, if it worked for the folk scene, why not for the indie rock crowd? Freshly inspired, I returned to Gainesville to research the feasibility of putting together a regional rock festival featuring independent bands. I had visions of bands from all over the region coming together, doing some networking, and having a good time. Yet in order to attract an audience and publicity to make the event special, there had to be a little sparkle. Furthermore, how was I supposed to get bands excited about playing for free (I had no money)? The solution was to design and promote the event as a collective self-promotion for independent bands that was so big that people had to pay attention.

At the time, the American music buzz was just recovering from Seattle. In the South, Athens still had its own aura. Why couldn't Gainesville be The Next Big Thing? In retrospect, this was a dumb idea. Having spent my post-Florida life in NYC and L.A., I've realized that most people in the real music business have no idea where Gainesville is and don't too much care. They mostly just care about music and/or money, not geography. Anyway, true buzz-towns don't happen because people decide to make them so, they happen organically.

back to top



Cassette liner card: thanks to Bob McPeek and Mirror Image Studios for recording the whole thing.
Inside cassette liner

HISTORY pt.II: JOINING FORCES



Several months after the Folk Festival, my roommate, Marshall Lowe, returned from spending the summer in Chicago. By that time, I had done a good deal of initial background work: talking to bands, getting advice from former event planners, researching venues, etc. Marshall was (is) a friendly, trustworthy, and easy-going guy, so I asked him if he was interested in joining forces to put together the show. He agreed and, together, we assembled an embryo of a production team. Our team included a bunch of our friends plus people we met along the way. The Harvest production was a major team effort; there were many people without whom it wouldn't have succeeded. Lest I omit anyone's name, I prefer to direct you instead to the credits in the program.

Later that fall, an attorney named Tracy Williamson responded to a flyer and offered to incorporate us for free. Within weeks, Marshall and I were co-directors of the Gainesville Alternative Music Alliance (GAMA), a non-profit corporation. I was 19; I think Marshall was 22. The sole purpose of GAMA was to promote independent and alternative music of Gainesville and North Florida. We got a lot of flack for the word "alternative" since one person's alternative is another's mainstream. Within a couple years, Marshall would wisely simplify the name to the Gainesville Music Alliance. We booked a weekend at the Alachua County Fairgrounds and decided to call the event the Alachua Music Harvest. Many people would later mistakenly call it the Harvest Festival, which annoyed me to no end. Many out-of-towners couldn't even pronounce Alachua (uh-LATCH-oo-uh).

The Harvest generated quite a buzz. Some clubs just shut down for the weekend because they knew everyone would be out at the Fairgrounds. The closer we got the festival, the more people wanted to get involved. Almost every band we wanted in the lineup agreed to do it. Rock 104 stepped in with a major radio sponsorship. Marshall and I did radio interviews in Gainesville and Jacksonville. Bob McPeek at Mirror Image Studios agreed to record the whole thing. If memory serves, Bob did the whole thing for free or next to nothing. Danny Tobias painted a giant stage mural. It was a great feeling to see everyone so excited. I'll never forget when Bill Perry at Hyde and Zeke Records looked at me with twinkle in his eye and said, "This thing is gonna be big!"
back to top

HISTORY pt.III: AFTERMATH

In the end, we estimated an attendance of about 5,000; around 4,000 of them actually paid admission. It wasn't gigantic, but by all accounts it was a success, especially considering there was a hard freeze that weekend (in Florida, that means high 20s). Janet Davies wrote a nice post-piece for the Gainesville Sun. The bands (for the most part) had a great time playing on the giant stage. At least some of them got to play in front of thousands, an experience I'm sure most of them won't ever forget. The only band from the first Harvest who made it big was Less Than Jake. I remember they played an early slot and hundreds of kids came out to see them. Whereas some bands scoffed at the idea of playing so early, Jake was all smiles and happy to play, proving that if you're a good band and people like you, it doesn't matter what time you play. Today they headline some of the biggest concert halls in the country and I'm not surprised at all. Ironically, one band that didn't make the cut, For Squirrels (R.I.P.), went on to sign with Sony Records. I still remember their Maxell-ish demo tape and lobbied for them, but I was overruled by the selection committee (absolutely true).

After we paid our debts, took the staff out for a nice dinner, and tipped a few key players, Marshall and I decided to pay ourselves about $600 bucks a piece, a nominal fee for the countless hours we spent. I would hardly call this a profit. If anyone has a problem with that, go produce your own #@*$! festival. With my cash I bought a green 1994 Kona Lava Dome mountain bike from Ted at Spin Cycle (which I sold in 2008 for $120 on the L.A. Craigslist). I decided to quit GAMA in summer 1994 to devote my time to my own music life: touring with Loose Fragments. I realized that I would rather be on stage than in the production trailer. Marshall and the GAMA crew continued on for several years, growing the production into a full-time business. The festival grew to exceed 20-30,000 in attendance and added many national acts such as James Brown, P-Funk, They Might Be Giants, Ben Harper, Widespread Panic, and others. GAMA did an awesome job. At first, some wondered whether the national acts would overshadow the local bands. Well of course they did, but the greater benefit was that the big bands attracted more publicity and interest, which drove attendance well into five digits and gave the bands way more exposure than they would have had otherwise.

In what surely is NOT a textbook example of unbiased reporting, I wrote a review of the 4th Annual Music Harvest for Moon Magazine. (I took my job as a music writer a little too seriously sometimes, and I regret many of the critical remarks I made in the magazine, not just about the Harvest.) That year the stage roof collapsed under the weight of rain...only minutes before Ben Harper was to start. Instead of a stage show, Harper played a small acoustic solo set under the pole barn. P-Funk had to be relocated to the fluorescent-lit convention hall. If you were there, it was one of those memorable moments of people overcoming adversity. The production staff likely had a decidedly less romantic view in the moment. I remember seeing Marshall driving around in the rain in a golf cart with the production staff looking--understandably--very stressed. The stage collapse wasn't GAMA's fault, but they had to deal with it.

As far as I know, Marshall lives in Charleston and runs a production company of some sort. In the year 2000 or so, about 3 a.m. one summer night in Greenwich Village, I was eating sidewalk pizza with a couple Gainesville buds when, to our surprise, Marshall walked by. We all chatted for a bit; I think he was in town for some production meeting or something. It was one of those funny New York moments that you'd understand if you lived there.

back to top

PRESS CLIPS AND PRINTED STUFF

Gainesville Sun promo article about the first Music Harvest by Mitch Stacy, January 14, 1994

Gainesville Sun Scene Magazine cover, January 14, 1994

Gainesville Sun post-piece/wrap-up by Janet Davies, January 21, 1994 (from microfilm)

Original program from the festival


MY POST-GAMA SHOWS

While Marshall and GAMA were carrying on the Harvest torch, I occasionally put on a show for fun. My first big one was a free show at the Downtown Community Plaza called the Gainesville Punk Rock Festival. From the beginning, GAMA took heat from people who thought that if the Music Harvest were a true alternative festival it should have had more punk rock. For the most part, we took this (and all criticisms) with a grain of salt, but I eventually realized they had a point. Plus, Gainesville had and still has a great punk scene. One bands on the bill, Hot Water Music, still tours regularly with support from Epitaph Records. Here's a press blurb from Moon Magazine about the show that also shows how popular putting on music festivals had become in Gainesville in the mid-90s. The photo of Hot Water Music is humorously miscaptioned as some crunchy cabaret singer.

In return for featured sponsorships, Wayne Irwin agreed to give us free radio ads at Rock Radio 1390 AM (the only alt-station in town, where I hosted a local music show) and Alan Bushnell of the Hardback Cafe agreed to provide a P.A. system. The planning was going smoothly until the Gainesville Police Department got wind of the show through the Moon Magazine ad (at right). Although I had already filled out the proper permits and was approved by the city staffers, the police chief himself decided that we needed to hire six off-duty officers to stand guard as security for the event for a total price of over $1000, a then-princely sum by my standards. You can read Clifton's letter for yourself right here. It's interesting to note that Bushnell's name figures prominently in the letter. This was probably because I wasn't listed by name in the Moon ad, while the Hardback was listed as a sponsor. This led to the police contacting Alan, who was all too happy to appoint himself a publicist for the festival without asking me.


Since I wasn't charging admission or making any money, GPD's demands were a problem. I sold sponsorships, took a collection at the show, and got the Hardback to agree to hold a few post-event benefit concerts. I raised a few hundred myself and had a couple benefit shows at the Hardback, but as the publicity around the event began to wane, so went Bushnell's enthusiasm for helping me pay my debt to the city. After several unreturned phone messages left on the Hardback answering machine, the City of Gainesville lost patience and sent me a final bill. I took $177 on the chin, the cost of a vague lesson on something. The day of the festival, we got about 1000 people, Christina Assal made a movie, everyone had nice, peaceful fun, and Clifton's officers made some easy overtime money. After the festival at a televised public hearing, I petitioned the City Commission to waive the balance. I lost and probably came off sounding foolish.

back to top


I decided from then on just to do simple shows with no greater purpose than to have fun and make a little beer money. One day Wayne Irwin, some friends, and I were canoeing on Prairie Creek and stopped in for a beer at Kate's Fish Camp, a sleepy ill-attended dive bar on the eastern edge on town. We started talking to the owner, Mike, and proposed having a show on his land. He could sell all the beer and food and we'd take care of the music. He enthusiastically agreed and the Prairie Creek Jam was formed. Since Wayne managed Rock Radio 1390, we had excellent radio support. That show was particularly satisfying because we made enough to actually pay all the bands and ourselves.

Prairie Creek Jam helped to put Kate's Fish Camp on the map for shows. Mike loved having the kids come out from Gainesville and buy his beer. The kids loved it because Mike's closest neighbor was well beyond earshot, and you could sneak off into the swamp to get high. For a while it seemed like there was a show at Kate's every month. In 1997 I put together a silly little show called Slackerfest. I got 97X and Moon Magazine sponsorships and a great lineup. I got a great writeup in the Gainesville Sun and people were talking about it. Around 11:30 on the day of the show, while we were setting up the sound system, the clouds rolled in. What followed was literally on of the heaviest thunderstorms I had ever experienced in Florida (and I've seen many Florida thunderstorms). It was strong enough that there was absolutely no question that no one was going to come to Slackerfest. The 20 or so people who were there during setup hung around and drank beer and played pool inside Mike's bar. Lord knows I needed a beer. It was my last day as a concert promoter.
back to top

YOUTUBE VIDEOS

I posted several videos of the 2nd Alachua Music Harvest to YouTube, digitized from VHS tape. They're from a local Gainesville public access show, now defunct, called Ground Zero. I've embedded a couple vids below; the rest should show up automatically on the YouTube sidebar, else you can just search on YouTube.





LINKS

Alumni bands of AMH1:
The Tone Unknown
Less Than Jake
Common Thread
Here's a bulletin board with prominent postings about Big White Undies and Whoreculture.
Loose Fragments


DISCLAIMER AND CONTACT INFO

I've written this little blurb because I'm proud of the Music Harvest, and--OK I admit--I'd like to be remembered for my role in its creation. For better or for worse, the AMH has a special place in the history of the Gainesville music scene. I've tried to give what I believe to be a good faith account, but if I've made any errors, I sincerely apologize unless you're an asshole. If anyone has any old photos that he or she would like to share, please contact me. If you find yourself annoyed (or worse) by anything I've written, you can always take it out on me with an vindictive post at the Gainesville Band Family Tree. May I suggest: "Damn, Codi, what an arrogant prick you are for thinking people actually give a shit about the insipid pabulum that comes out of your navel-gazing clap trap."

All my love,
Codi Lazar
July 2006 (last updated 2014)

back to top
clazar.com home